Noah and Abigail's wedding featured red, navy, and gold inside while everything outside was dusted white with snow. It was a perfect, sunny, winter day! Harvest Time Fellowship in Jamestown was gracious enough to allow their banquet hall to be turned into the most beautiful setting, chuppah and all. The tables for the reception were lined with gold and had winter greenery inspired centerpieces. Piper Denman was the event coordinator, pulling everything together so that it ran smoothly.
If I could describe the sweetest and "we don't care, we just want to be married" couple-this would be them!
Abigail's jewelry for the day were very dear and special. She wore her Mother's earrings, her Grandmother's bracelet and her Great Grandmother's ring.
The beautiful cake was made by Teresa Perry and the delicious cupcakes were made by Marge Benge (Noah's Aunt!). I may have had a couple and taken a couple home. The Lego cake topper was made by the Bride!
Hair styling and makeup artistry was performed by Piper Denman of The Shop in Crawfordsville, as well as, all of the floral design-including the beautiful boquet!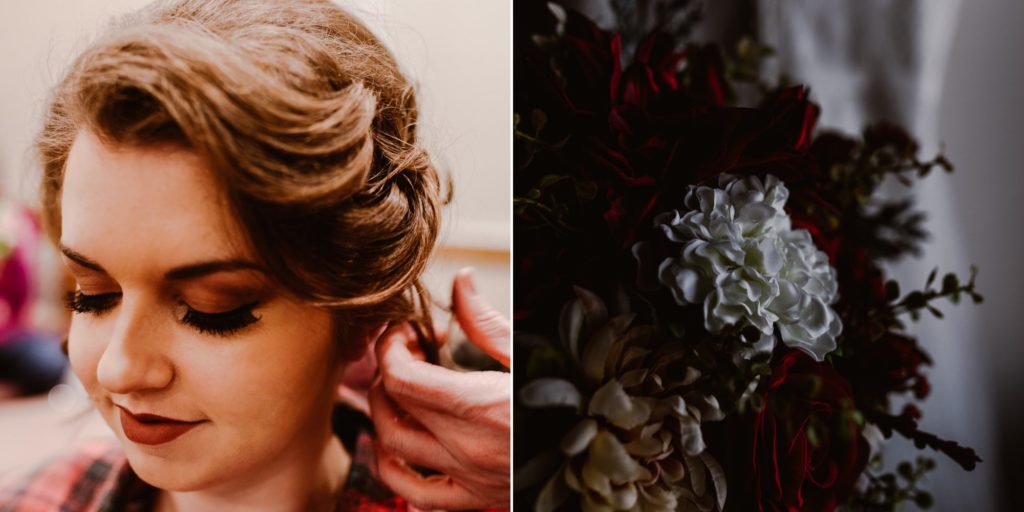 The David's Bridal dress was full of detail with just the right amount of feminine charm with the tulle skirt.
The couple opted for a first look and it was nothing short of magical!! They smiled and laughed in the winter-wonderland before we did some of their bride and groom portraits.
Featured in Abigail's bridal portraits is a very special heirloom shaw from her neighbor, who has passed it on to her. Her floral hair piece was designed by me.
We headed inside and Noah helped Abigail change into her wedding shoes, they wore Chuck Taylor's, in black and burgundy. Noah showcases his Great Granfather's pocketwatch and Abigail's Father's tie clip. His suit is from Express Men's.
The beautiful ceremony was officiated by Andy Schindler while their parents lovingly held hands and watched the couple say their vows, kissing and becoming husband and wife.
The ceremony was followed by catering by Paloma Bravo of Mi Rancho Bravo.
They shared their first danced infront of their elegantly lit chuppah for added romantic effect (and it worked). And as the night ended they posed with their Mr. & Mrs. Joshua coffee cups!! The Joshua Cup is where they shared their first date and where Noah proposed to Abigail.
It was truly a wonderful, winter wedding surrounded by friends and family.
The Wedding Team
Photography-Tara Rae Photography
Event Coordinator-Piper Denman
Venue-Harvest Time Fellowship of Jamestown, Indiana
Floral Design-Piper Denman
Catering-Paloma Bravo of Mi Rancho Bravo
Officiant-Andy Schindler
Makeup Artist-Piper Denman of The Shop
Hair Stylist-Piper Denman of The Shop
Wedding Dress-David's Bridal
Groom's Apparel-Express Men's
Cake-Teresa Perry
Cupcakes-Marge Benge